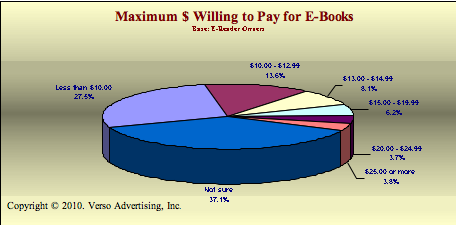 Over 27% of e-reader owners are unwilling to pay more than $9.99 for e-books, while an equal number, 28%, are willing to entertain a range of prices up to $20.00. (The typical Amazon price-point for Kindle e-book sales is $9.99.)  Further, over 37% of e-reader owners have yet to form a firm opinion about e-book prices.
The results are based on Verso Digital's 2009 Survey of Book-Buying Behavior, the full results of which will be presented at the upcoming Digital Book World conference, January 26-27 at the Sheraton New York Hotel & Towers in New York City. Conducted in two waves during November and December, 2009, the survey polled 5,640 book-buying respondents, weighted to mirror the U.S. adult population.  The results are statistically reliable within a 1.6 percentage-point margin of error, at a 95% probability level.
The Survey further reveals that only a very small minority of e-reader owners, 7.5%, is willing to entertain prices typical of new-release hardcover books, $25.00 and above.  "The results suggest a much greater diversity of opinion among consumers regarding the emerging e-book market than the industry pundits allow," says Jack McKeown, industry consultant and Director of New Business Development for Verso Digital.  "We think the survey results point to a potential 'sweet spot' for publishers in the $13.00-$18.00 price bracket, including the prospect of converting a lot of the undecided owners.  The results should offer some encouragement to publishers that have been struggling with issues of e-book pricing, timing and potential cannibalization of print sales."
Could it be true that current e-book users are willing to entertain more flexibility in e-book price points than it first seemed?