As our preparations for this year's Digital Book World shift into high gear (including the Master Class in paid advertising and the panel on the book buyer's journey), there is an abundance of ad news to take in. Below is a sampling of what we've been reading this week.
WHY IS THIS PAGE TAKING SO LONG TO LOAD?
In an article about how Google's new AMP system works, AdAge connects to very clear graphics that show clearly how the complexity of ad exchanges and analytics tracking slows down load times—and how AMP fixes that.  
"When compared to traditional mobile websites, AMP pages load 85% faster, Google says.

'The New York Times itself is running very fast,' Ghostery CEO and founder Scott Meyer said regarding the desktop version of the site. 'But once you get beyond the Times, and into the far reaches of the ad exchanges, a lot of those companies are going to be slow to load and there will be an impact on user experience.'

AMP is a response to similar but proprietary platforms like Facebook Instant Articles and Apple News. Unlike those, however, AMP is open source, meaning anyone can use it."
It's worth a click through to see the dynamic images, but here is a screenshot of the desktop ecosystem for a NYTimes.com story:
Here's a shot of the mobile ecosystem: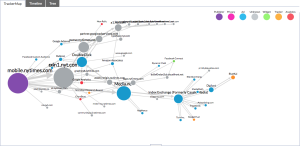 And here's a shot of the new AMP ecosystem for the same story:
REDEFINING WHAT WE MEAN BY MOBILE CAMPAIGN 
AdAge has a fascinating article about the latest big brand thinking around mobile advertising. Long story short: It's not about the campaign.
"The perfect mobile campaign isn't a campaign," said Carl Norberg, founder and chief experience officer of mobile-focused shop Monterosa/BBH Stockholm, which has created initiatives for clients such as Volvo, Justin Bieber, Google, Axe and others. "It's a brand extension where marketing comes baked into the product." While great TV is storytelling, great mobile is about "storydoing," he said. "Instead of us telling the story, we hand over an app to let the consumer become an active part of the brand's tale."
While the takeaways for book publishing's fleet of individual, smaller scale products is not great; it's important to remember that "mobile" isn't a platform any more. It's how most people scan email, check Facebook, Tweet, research restaurants, and even (in some cases) read books.
WHY HOLLYWOOD LOVES BILLBOARDS
The New Yorker has an interesting article on the "For your consideration" billboards that use a mass medium to reach a very targeted audience. Why do they use a mass medium when the target is so specific? Because they work in a couple different ways:
The high concentration of  Oscar nominators in a few specific locations

To show the wider audience that this might be a film worth seeing.  
PINTEREST BEST PRACTICES
Kirsten Oliphant has a good piece up on Jane Friedman's blog about best practices for authors on Pinterest. It's an especially good platform for lifestyle and cooking, and worth a read.
FOURSQUARE CONNECTS DIGITAL ADS WITH FOOT TRAFFIC
Foursquare announces that it can connect digital ads seen by Foursquare users with foot traffic in stores. Testing has already begun:
"Flipboard recently used the system to measure a campaign that it ran for an undisclosed retailer and found that the digital ads drove a 12 percent incremental lift in visits to the retailer's locations within a week."
Connecting the digital ad space to real world traffic is vital to understanding how our ads work with the people who see them. It will be exciting to see how this new product develops. In a followup article, Adweek mentions other players in this space. The interest in this is only growing.
MAKE YOUR OWN SNAPCHAT FILTERS!
Marketers and party planners alike will be happy to hear of Snapchat's new rollout of make-your-own geofilters for the platform.
EXPERIMENTS IN SNAPCHAT MARKETING
Dominos has run some successful experiments in marketing on the channel that marketers are scrambling to figure out to reach the post-Millennial generations
GOOGLE STUDY ON IN-STORE MOBILE USE
It's not just show-rooming: a study from Google on in-store mobile use has a few key takeaways:
Mobile is the new front door: Target found that 3/4ths of its customers start the customer journey on mobile

Local search matters (for bookstores!): year to year growth in "Near to me" searches.

A 2015 Google Consumer Survey found that 50% of consumers who conduct a local search on their smartphone

visit a store within a day

, and 18% of those searches lead to a purchase.

3

Ads that show local inventory drives users into the store (note, 3rd party servers such as Sizmer, a Verso partner, have this capability)

In-store decision guide: 82% of shoppers say they've consulted their mobile phone while in store to make a purchase

Omni-channel customers spend more: 250% more, according to MasterCard
INSTAGRAM CONTINUES DOUBLE-DIGIT GROWTH
eMarketer notes that, at this pace, more than a third of internet users will be on Instagram by 2017. The article includes projections for Facebook, Twitter, Pinterest, and Tumblr too.
ADBLOCKERS ARE YOUNG AND MALE
There are 198 million ad block users worldwide. This infographic on Hubspot goes into detail about who are leading the charge, heavy into tech, gaming, sports and social. Not surprisingly it's the young male demo. The older female demographic (core, avid readers) are the least likely to be using an ad blocker.
PROS AND CONS OF PODCASTS
eMarketer talks to Digitas LBI Social Director about the pros and cons of podcasts for marketers.
HOW TO USE TWITTER
ClickZ attended Twitter's Flight Camp so you don't have to. Good stuff here for social media managers.
#twitter #social #bestpractices
MEDIA PROS JOIN SNAPCHAT #FAILBETTER
A week travelling on the West coast with a pair of 15 year-old boys has shown me the vitality of Snapchat, the generational divide (and I mean the one that the millennials are starting to feel with the generation after them . . . ), and how Gen X just. doesn't. get. it.
AOL FTW
More evidence that the digitally connected older generation are where the action is with digital marketing.
TWITTER UPS ITS GIF GAME
Integration with Giphy and Riffsy make it easier for Twitter users to post animated gifs.
WRONG END OF THE FUNNEL
Why haven't buy buttons on FB and Instagram taken off yet? Because they're trying to force top of the funnel marketing down the funnel too far…. Customers aren't interested in that (need a little more time and comfort before making the purchase).
#facebook #instagram #thefunnel
TUMBLR STRUGGLES
It's still a great way to reach the YA audience, but Tumblr's growth is slowing. Here are projections via eMarketer:
"Regarding its total user base, this will be the last year Tumblr will grow by double digits, signaling a plateau. In 2016, Tumblr will have 23.2 million users in the US. That's less than half as many as Pinterest (which has 54.6 million) and less than a third as many as Instagram (which has 89.4 million)."
The image at the top of this post is taken from the current Tara Donovan show at the Quint Gallery.