What's the cause for optimism? Our latest readings on advertising and what it means for book publishers. The links below point to new intelligence on fresh data, smart research, inspiring creative, reader-centric design, and the potential for real world impact.
SNAPCHATS WANTS YOU TO AMP UP THE AUDIO
In a reminder that different platforms call for different standards, Snapchat is telling its video creators to pay close attention to the audio. This is in direct contrast with Facebook's recommendation to create video that works without sound at all. They're different platforms with different audiences and content expectations, so it makes sense to create different video for both. If you want to compare the platforms though, Snapchat says a recent study with MediaScience gives them an edge over TV, Facebook, Instagram and YouTube. According to AdWeek,
"The study encompassed biometric testing to capture emotional responses, as well as eye-tracking and exit surveys . . . Snapchat says its ads garnered twice the visual attention of Facebook, 1.5 times more than Instagram and 1.3 times better than YouTube. When compared to those platforms and TV, Snapchat claims that its ads generated greater emotional response and twice as much purchase intent."
BEN EVANS THINKS THROUGH MOBILE
In a recent blog post, Ben Evans does some smart thinking through the issues around mobile video and the problems of trying to compare TV ads with Facebook video plays with Snapchat Stories. They're different animals with different metrics. Bonus video: Lyrical School puts it all in context for you with Run and Run.
#mobile #video #TV #facebook #runandrun
WHAT ADVERTISERS NEED TO KNOW
R/GA boils down Mary Meeker's epic deck to the slides brand advertisers need to focus on. Here's our boil-down of R/GA's boil-down for book advertisers: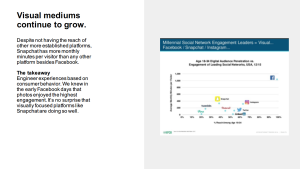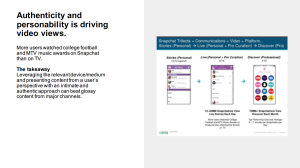 #data
PANDORA REDESIGN
With over 1,000 different audience segments to use for targeting, Pandora has been one of our strongest ad partners in recent years. We are pleased to note that their redesign improves on their strengths. AdWeek notes:
"The streaming-music service is introducing responsive mobile display ads that automatically adjust to a phone's screen size and that live in the square space housing album art. The format, which also applies to images that accompany audio ads and first impression takeover ads, is a move away from pop-up ads. A second major update for the app is the introduction of muted video ads, which will allow advertisers to serve promos within a responsive display unit that can be unmuted and watched in full-screen view."
Other aspects of the redesigns go even farther to allow users some choice over the ads they see by allowing users to swipe right to dismiss ads. Anything that enhances the user experience is good news for book advertisers.
MORE ON PANDORA TARGETING
AdExchanger has more on the new units in this interview with Pandora's group product manager Eric Hoppe.
IS IT OVER? DID FACEBOOK AND GOOGLE WIN?
No, but it can feel that way, especially after reading the New York Times piece that suggests Google and Facebook take up 85% of total US ad revenue. This article from April suddenly popped up in our feed this week with comments and criticism from The Motley Fool, AdWeek, IAB, Business Insider and more. As mammoth as the two platforms are, it's unlikely that 85% number is accurate. And while book publishing is certainly not representative of the larger advertising market, it's worth noting that Google and Facebook advertising products are nowhere near 85% of what we run at Verso.
PINTEREST MEASURES REAL WORLD IMPACT OF PROMOTED PINS
Pinterest studied the effect of Promoted Pins on real-world store purchases:
"The study found that Promoted Pins drive 5-times more incremental in-store sales per impression when compared to other campaigns measured by Oracle Data Cloud, which include social media platforms as well as programmatic vendors and publisher websites, said Jon Kaplan, head of global sales at Pinterest."
Photo (c) Martha Otis